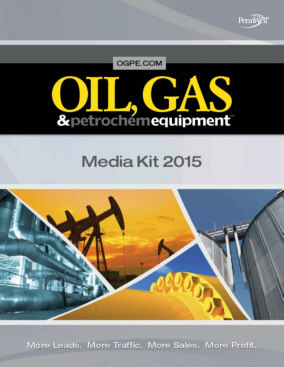 MediaKit 2016
Auflage- und Verbreitungsanalyse ab April 2014
BPA Auflagenkontrolle June 2014
OG&PE Page-Views April to September 2014
---
OG&PE Merges with Oil & Gas Journal

Oil, Gas & Petrochem Equipment (OG&PE) will be published as part of its Oil & Gas Journal beginning in May 2015 to serve a consolidated audience of 137,000 oil and gas professionals worldwide.
OG&PE grew out of Oil & Gas Journal in 1954 and has since been published monthly to cover industry equipment. Oil & Gas Journal ... known as the industry's leading weekly international news and technology magazine ... began life in 1902 to focus on upstream, midstream, and downstream operations. While leaving both brands intact, the reunion combines Oil & Gas Journal's news, technology, and statistics with OG&PE's coverage of equipment and services.
The product-rich OGPE.com website and weekly Equip-Alert e-Newsletter will continue in their present formats, with daily postings and social media. Oil & Gas Journal retains its weekly frequency, with OG&PE to be included in its printed issue the first week of each month. Oil & Gas Journal also publishes weekly in a digital magazine format, along with its full suite of digital services, including OGJ.com, multiple newsletters, and social media.
OG&PE subscribers will now have access to Oil & Gas Journal's unparalleled news, technology, and analysis in addition to product and equipment information. A circulation of 137,000 is a powerful voice among business-to-business brands with benefit to subscribers, web users, and media partners.
Based in Tulsa, veteran editor J.B. Avants will continue to lead OG&PE in collaboration with Oil & Gas Journal editor Bob Tippee. Tippee said, "By connecting hardware and services with the operations they support, we're using innovative distribution to create an incomparably rich package of industry information. This is a reunion for the future for two brands with great pasts."
---
PennWell Oil & Gas Division :: Aktuelle Media-Informationen